---
Videos
---
Dr. Paola Barba Burgos—Genetics of Disease Resistance Pest-Related Traits in Grapevine Hybrids
Paola Barba Burgos worked on her Ph.D. Research as part of the VitisGen project. Dr. Barba Burgos was part of the VitisGen team that has identified markers related to vines' abilities to resist certain fungal diseases and other pests. This will help grape breeders to develop new varieties that require fewer chemical inputs and are more environmentally and economically sustainable.
---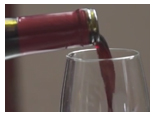 It's All About the Genes: Wine Color
Humans are inherently visual creatures, so we often get our first impressions of a wine, especially a red wine, from its color. VitisGen scientists like Dr. Anna Katharine Mansfield are honing in on markers for the genes that influence the color compounds that are produced in grapes. With this information, breeders will be able to identify seedlings that will produce fruit and wine that are both pleasing to the eye and the palate.
---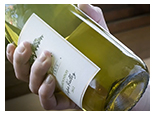 It's All About the Genes: Wine Flavor
Dr. Gavin Sacks of Cornell University explains how a food chemist can help grape breeders to identify genes that are associated with different flavor and aroma compounds in grapes. With that information, breeders can more easily and efficiently select plants with the flavors and aromas that they want, and eliminate those that would produce grapes with flavors that consumers don't want to taste in their glass or on their table.
---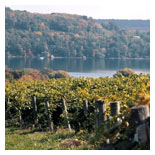 Industry Voices in Support of VitisGen
---
Learn how university and USDA scientists are using new technologies as part of the VitisGen project to track powdery mildew resistance in grape plants from the field to the laboratory.
---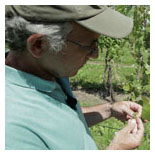 How Grape Crosses Are Made
Dr. Bruce Reisch, grape breeder at Cornell University and project director for VitisGen, discusses how breeders make crosses, how they choose what parents to use in those crosses, and how VitisGen will make this process more efficient and help to produce improved grape varieties for juice, wine and the fresh market.



---
Funding for VitisGen "Accelerating grape cultivar improvement via phenotyping centers and next generation markers" is provided by a Specialty Crop Research Initiative Competitive Grant, Award No. 2011-51181-30635, of the USDA National Institute of Food and Agriculture. This site is hosted at Cornell University. Copyright © 2015.