---
VitisGen in the News
---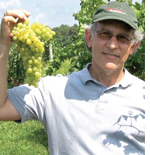 Dr. Bruce Reisch, Cornell's grape breeder and co-director of VitisGen, talks about the history of Cornell's program and how the technology and techniques developed as part of VitisGen are helping to improve the efficiency of breeding programs like his.
---
Developing The Grapes Of The Future
VitisGen is unique in its approach to understanding the genetic basis of important traits in grapes, like disease resistance, how they look and taste and how well adapted they are with cold temperatures. By working with scientists from multiple disciplines, VitisGen is not only meeting its scientific goals, but also ensuring that the project is relevant to the needs of growers, processors and consumers.
Ann-Marie Jeffries, June 9, 2015
http://www.growingproduce.com/fruits/grapes/developing-the-grapes-of-the-future/
---
Research Focus: VitisGen (Appellation Cornell, March 2015)
This article highlights how scientists from across the U.S. are collaborating on VitisGen, a multi-disciplinary project aimed at finding genetic markers for traits like disease resistance, cold temperature tolerance and fruit quality attributes that can be used by breeders to develop better grape varieties. The article details some of the work done by the Breeding, Genetics and Trait Evaluation teams to identify and integrate multiple genes for powdery mildew resistance into new varieties.

https://grapesandwine.cals.cornell.edu/sites/grapesandwine.cals.cornell.edu/files/shared/Research Focus 2015-1.pdf
---
Mapping the Way to the Next Generation of Grapes
American Fruit Grower, July 2013
VitisGen marks an important advance in traditional breeding programs. The techniques and technology being used as part of VitisGen will speed up the development of new grape varieties with advantageous qualities for both producers and consumers.

http://www.growingproduce.com/fruits/mapping-the-way-to-the-next-generation-of-grapes/
---
A New Word-Old World Problem and How Genetic "Fingerprints" May Help
Dennis O'Brien. USDA Blog, posted September 3, 2013.
http://blogs.usda.gov/2013/09/03/a-new-world-old-world-problem-and-how-genetic-fingerprints-may-help/
---
Program has $9 million to develop better grapes
Sarah Thompson, Chronicle Online, October 24, 2012
http://www.news.cornell.edu/stories/Oct12/VitisGeN.html
---
Researchers awarded $4.5M for next generation grapes
Amanda Garris, Chronicle Online, October 14, 2011
http://www.news.cornell.edu/stories/Oct11/GrapeGrants.html
---
NIFA Funds National Grape Research Priorities
NGWI 2011 October Newsletter
http://archive.constantcontact.com/fs091/1106937002485/archive/1108434842427.html#LETTER.BLOCK14
---
Schumer Announces Nearly $4.6 Million In USDA Food And Agriculture Grant For Cornell University;
Investment Will Support Research Into Finger Lakes' Wine Industry In Geneva
Press Release from New York State Senator Charles E. Shumer October 14, 2011
http://schumer.senate.gov/record.cfm?id=334481&
---
Funding for VitisGen "Accelerating grape cultivar improvement via phenotyping centers and next generation markers" is provided by a Specialty Crop Research Initiative Competitive Grant, Award No. 2011-51181-30635, of the USDA National Institute of Food and Agriculture. This site is hosted at Cornell University. Copyright © 2015.