Reasons for Grape Cultivar Improvement...
---
What is VitisGen?
VitisGen is a large, multi-disciplinary, collaborative project focused on decreasing the time, effort and cost involved in developing the next generation of grapes. VitisGen incorporates cutting edge genomics technology and socioeconomic research into the traditional grape breeding and evaluation process, which will speed up the ability to identify important genes related consumer-valued traits like disease resistance, low temperature tolerance and enhanced fruit quality. Identifying these genes will help grape breeding programs from around the world to more rapidly develop new grape varieties that will appeal to a wide range of consumers, while also addressing grower and producer needs. Additionally, the scientific resources developed during the project will allow scientists and breeders to address other issues and needs that have regional significance, like salinity or drought tolerance.

VitisGen represents a new model of scientific collaboration. The integration of the needs of multiple interests—breeders, growers, fruit processors and consumers—into a single outcome will result in novel grape varieties that are beneficial to producers, processors and consumers.
Click here to learn more about the VitisGen project.
News from VitisGen
You can have the most disease resistant and cold tolerant grape varieties, but if they don't taste great and look appealing on a plate or in a glass there's no point in growing them. This issue of VitisGen Voice looks at some of the work done by VitisGen scientists that focus on the genetic control of compounds that influence the taste, aroma and color of grapes and the products made from them, and how breeders can use that information to develop new varieties that will appeal to consumers.
---
Dr. Paola Barba Burgos—Genetics of Disease Resistance & Pest-Related Traits in Grapevine Hybrids
Paola Barba Burgos worked on her Ph.D. Research as part of the VitisGen project. Dr. Barba Burgos was part of the VitisGen team that has identified markers related to vines' abilities to resist certain fungal diseases and other pests. This will help grape breeders to develop new varieties that require fewer chemical inputs and are more environmentally and economically sustainable.
---
Tools for Marker-Assisted Selection
The VitisGen project has been implementing marker-assisted selection procedures in U.S. grapevine breeding programs for the past four years. The markers used are described in a series of three new Tables. As new markers are published and validated, they will be added to these Tables.
---
Its All About the Genes: Color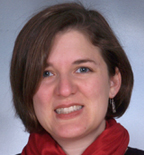 Humans are inherently visual creatures, so we often get our first impressions of a wine, especially a red wine, from its color. VitisGen scientists like Dr. Anna Katharine Mansfield are honing in on markers for the genes that influence the color compounds that are produced in grapes. With this information, breeders will be able to identify seedlings that will produce fruit and wine that are both pleasing to the eye and the palate.
---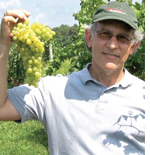 Dr. Bruce Reisch, Cornell's grape breeder and co-director of VitisGen, talks about the history of Cornell's program and how the technology and techniques developed as part of VitisGen are helping to improve the efficiency of breeding programs like his.
---
It's All About the Genes: Wine Flavor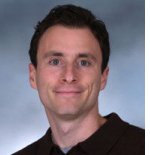 Dr. Gavin Sacks of Cornell University explains how a food chemist can help grape breeders to identify genes that are associated with different flavor and aroma compounds in grapes. With that information, breeders can more easily and efficiently select plants with the flavors and aromas that they want, and eliminate those that would produce grapes with flavors that consumers don't want to taste in their glass or on their table.
---
Updated: 9/10/16

This site has been developed by the VitisGen Extension and Outreach Team of Mark Kogut, Hans Walter-Peterson, Eric Stafne, Shanna Fellman, James Monahan, and Elizabeth (Takacs) Demmings-VitisGen Project Manager.
---
Funding for VitisGen "Accelerating grape cultivar improvement via phenotyping centers and next generation markers" is provided by a Specialty Crop Research Initiative Competitive Grant, Award No. 2011-51181-30635, of the USDA National Institute of Food and Agriculture. This site is hosted at Cornell University. Copyright © 2015.